Start working

ON

your restaurant and less IN your restaurant!
I work with motivated independent restaurants that want to grow their brand to multiple locations, strengthen their team to get their time back, and 4

X

their profits.
Most restaurant owners work so hard for so little.
Imagine a life where you have more money in the bank, work fewer hours IN your restaurant, and have time for things that matter to you...like family & friends.
You deserve a restaurant that doesn't own you!
LET'S GROW YOUR RESTAURANT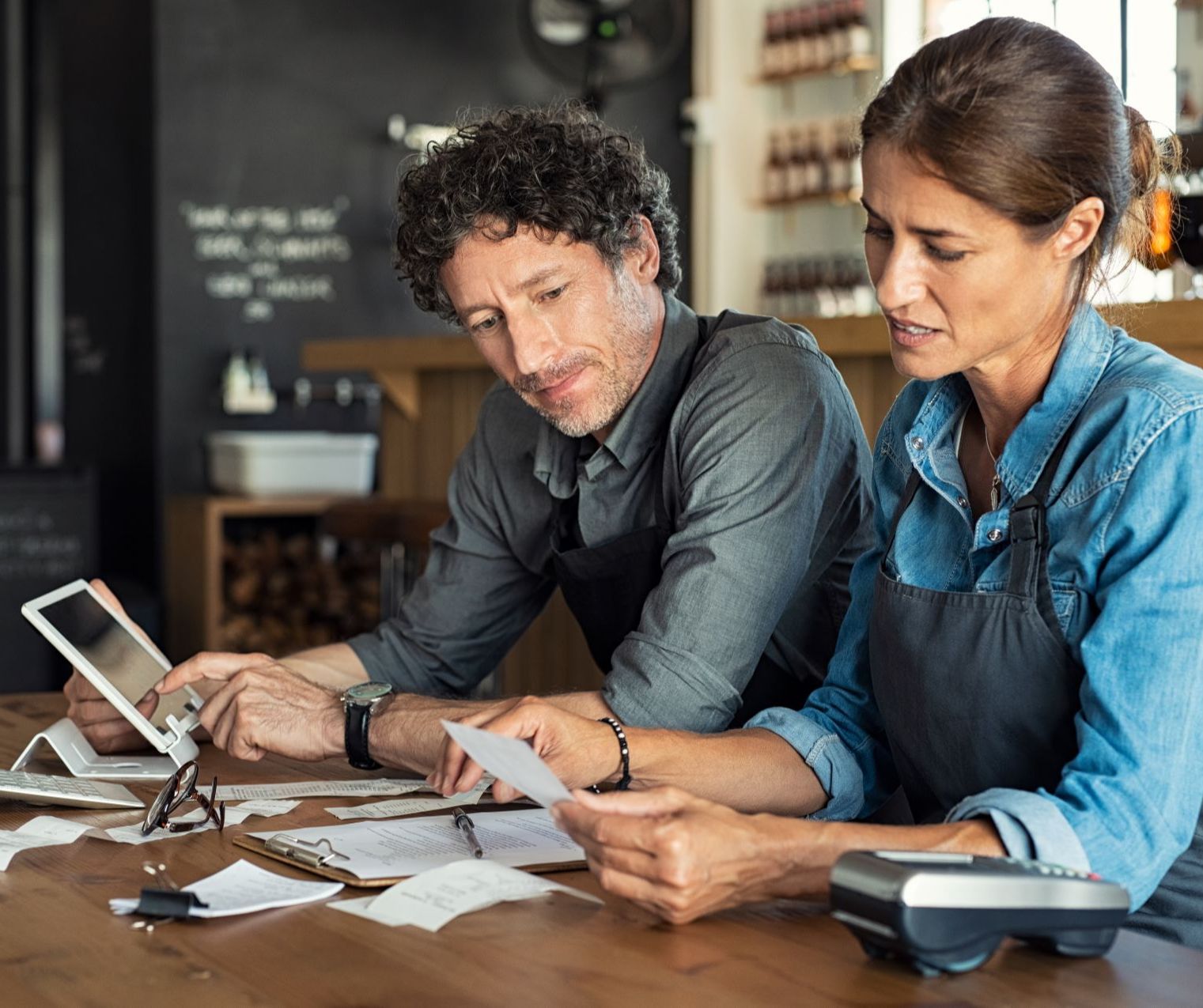 Do You Feel Your Restaurant Is Running You?
Do You Ever Feel...
Stressed About Money
Anxious About Business
You're Arguing More With Your Spouse About The Restaurant
You're Losing Valuable Time With Family & Friends
You're not alone. 80% of restaurant owners have these same feelings.
There is a better way.
Restaurant success isn't rocket science, it's people science.
The "GURUS" say that you need to work more ON your business and less IN your business. Yet no one has given you the step-by-step roadmap you must follow to actually make that happen. Until now...
This is the roadmap you need to make more profits and work less in your restaurant!
You deserve to have the restaurant you want without sacrificing your life for your business!
Check out what members say...
Donald's strategies helped me get out of my own way and thrive!

-Vicky Cisneros, Owner, Los Vaqueros
Don't think twice. Donald and his coaching programs are the real deal.

-Patrick Mescall, Owner, Torrance Tavern & New Hall Refinery
Thanks to Donald, I got the confidence to get the restaurant I knew it could be.

- Zim Sutton, Owner, Caravelle
I'm a former USAF Pararescueman, restaurant owner, executive chef with Wolfgang Puck, and consultant that created a system that will allow you to...
ATTENTION: INDEPENDENT RESTAURANT OWNERS, MOTIVATED RESTAURANT LEADERS, AND DRIVEN RESTAURANTEURS
Get Guests To Spend 15% More WITHOUT Raising Prices!
Download The One Page Menu Design Cheat Sheet That The Most Successful Independent Restaurants Use To Drive Sales!
I'll also give you FREE training on how to use these tricks TODAY!
Let Me Help You Get You The Restaurant You WANT!
Hi, I'm Donald Burns, The Restaurant Coach™. I have spent 40 years in this industry as a restaurant owner, executive chef with Wolfgang Puck, and a consultant/coach to billion-dollar brands, celebrity chefs, and mom-n-pop restaurant owners around the globe.
But, I always remember that first restaurant I started...
OMG, I made SO many mistakes when I opened my first restaurant. I thought that running a restaurant and building a profitable brand was the same. I was SO wrong!
Then I found a business coach who helped me build my brand, strengthen my team, and showed me how to run a profitable business.
Those early lessons became the guiding principles that I still teach my clients today!
Allow me to spare you a lot of the pain, stress, and anxiety that I experienced when I was a restaurant owner.
Let me to show you the exact steps to make more while working less IN your restaurant...
MEET DONALD
5

X

Amazon Best Sellers in Restaurant & Food Industry! 
All of my books are written to get you started down the path to getting your restaurant under control and getting your life back!
All are available on Amazon in either Kindle, Hard Cover, or Paperback editions.
They are also ALL available in audiobook format on Audible and iTunes. 
What coaching can do for you...
We love working with Donald. Our food costs have dropped by over 10%, labor costs are coming down and our training is so much better. We highly recommend working Donald Burns!

-Matt & Stephanie Dunken, Owners, Slam Dunk Pizza
Donald helped us reshape our culture through coaching. That has transformed our brand, our team, and our profits to new levels. We now spend more time working ON our business and enjoying being restaurant owners while living most of the year in Florida.

-Todd & Candy Sheets, Owners, Sno's Seafood & Steak
Before finding Donald Burns, I was losing my passion for my business and feeling lost. Donald has helped me to focus my energy and lead my business to success with his incredible program!
- Dina Stuehler, Owner, Ironworks Creperie
Transform Your Restaurant Business: An Insider's Guide to The Restaurant Coach™️ METHOD
In the bustling world of food and hospitality, competition is fierce, margins are thin, and there's no roadmap for success. However, there's an approach that's proven to change the game for thousands of independent restaurants, and it's called The Restaurant Coach™️ Method. This comprehensive coaching program leverages an integrated blend of learning modalities to get results that revolutionize restaurants, accelerating growth in months instead of decades of trial and error.
Embrace The Power Of Integrated Learning
The Restaurant Coach™️ Method is not a one-size-fits-all program. Instead, it understands the unique nature of every restaurant business and, therefore, incorporates four distinct learning modalities: on-demand online courses, weekly group coaching, accountability calls, and in-person immersive events.
On-demand online courses provide a wealth of information that you can access anytime, anywhere. This allows you to learn at your pace and apply new concepts to your restaurant immediately. These courses cover a range of relevant topics, from culture, guest service, hiring, menu design, and financial management to marketing strategies (and more)
Weekly group coaching sessions, on the other hand, encourage interaction and the sharing of experiences among peers. Here, restaurant owners learn from one another's successes and mistakes, creating a sense of camaraderie and collective growth.
Accountability calls are the check-ins that ensure you stay on track. They provide a unique opportunity to receive personal guidance, clarify doubts, and discuss your challenges and achievements with your coach.
Lastly, in-person immersive events offer a hands-on experience that can change your perspective. Through LIVE workshops and seminars (in Arizona multiple times per year), you get to meet industry leaders, learn about the latest trends, and witness firsthand how other successful restaurants operate.
Harness The Power Of The 3P Framework
At the heart of The Restaurant Coach™️ Method lies the 3P Framework, which stands for People, Product, and Process. This framework is integral to rapidly achieving what would usually take years of trial and error.
The "People" aspect involves nurturing your team to create a cohesive and motivated workforce. It focuses on building leadership, fostering communication, and inspiring a high-performance culture.
"Product" addresses your menu from a psychological and financial viewpoint. From food product to service models, this pillar aims to refine each aspect that influences profitability and then turn that into a marketing machine.
The "Process" element emphasizes operational efficiency and consistency. By streamlining operations and establishing systems, the goal is to ensure your restaurant can achieve high profitability margins consistently.
The Impact Of Coaching And The Freedom To Choose
It's said that the only way to experience coaching is to get a coach. Engaging with a coach who has walked in your shoes, faced your challenges, and found solutions can make all the difference. Coaches can offer fresh insights, sound advice, and effective strategies based on years of experience.
In this context, The Restaurant Coach™️ Method is a monthly membership program, giving you the freedom to choose. Should you find it's not the right fit for you and your restaurant, you can stop at any time.
Risk-Free Investment With Maximum Returns
Here's the deal: you truly have nothing to lose and everything to gain. You're not sure what program is best for you? No problem. Simply apply, and we'll guide you to the program that aligns best with your restaurant's needs. 
The process is totally risk-free and backed by a 14-year track record. Over 2600 independent restaurants have implemented The Restaurant Coach™️ Method, and they've seen firsthand the transformative effects of this approach. 
This robust track record is a testament to the program's effectiveness in helping restaurants transcend their limits and reach new heights of success.
All programs are a month-to-month membership model. If you're not getting the results you want, simply cancel. No questions asked.
Make The Change
If you find yourself wasting time and money grappling with the same issues, it's time for new results which require new action. After all, isn't that the essence of evolution and growth?
Coaching is the cure for the common restaurant. It provides the support, guidance, and expertise necessary to transform challenges into opportunities and good restaurants into great ones. With The Restaurant Coach™️ Method, you have the potential to elevate your restaurant business to unprecedented heights.
So, are you ready to change your restaurant's future? It's time to stop playing the guessing game and start playing to win. Apply now, and let's make your restaurant extraordinary, together.
Remember, your success story starts with the first step. Make The Restaurant Coach™️ Method your first step. The new chapter of your restaurant's journey awaits. Let's write it together!
Book a call with me personally to see if restaurant coaching is right for you...no strings attached.
I don't fix restaurant problems...I fix the mindset that created the problem in the first place. Once you fix that the problems seem to fix themselves.
Donald Burns
The Podcast You Need To Build A Successful Restaurant
Experience the perfect blend of business strategy and straight talk with The Restaurant Coach™ Podcast. Renowned industry expert, Donald Burns, takes you behind the scenes of the restaurant world, delving into the heart and soul of your favorite eateries and experts. Get the inside scoop on what it really takes to start, maintain, and grow a successful restaurant business in this cutthroat industry.
Every episode is a deep dive into the minds of successful restaurateurs, master chefs, service experts, and hospitality industry leaders, sharing their insights, strategies, and tools. Get your notebooks ready for game-changing advice, invaluable how-to guides, and innovative solutions tailored specifically for the fast-paced restaurant business.
Whether you're a budding restaurateur, a seasoned pro, or simply a food-lover intrigued by the business behind the plate, The Restaurant Coach™ Podcast will serve up a hearty dish of knowledge, inspiration, and motivation. Get ready to transform your restaurant vision into reality, overcome challenges, and elevate your business to new heights.
Tune in to The Restaurant Coach™ Podcast, and get on the path to success today!
Don't wait! Take control of your RESTAURANT and life today.
---
Let's talk TODAY about how my integrated coaching programs, online courses, and workshops can help you get the restaurant you desire.
LET'S GROW YOUR RESTAURANT!