Start working

ON

your restaurant and less IN your restaurant!
I work with motivated independent restaurants that want to grow their brand to multiple locations, strengthen their team to get their time back, and 4

X

their profits.
Most restaurant owners work so hard for so little.
Imagine a life where you have more money in the bank, work fewer hours IN your restaurant, and have time for things that matter to you...like family & friends.
You deserve a restaurant that doesn't own you!
LET'S GROW YOUR RESTAURANT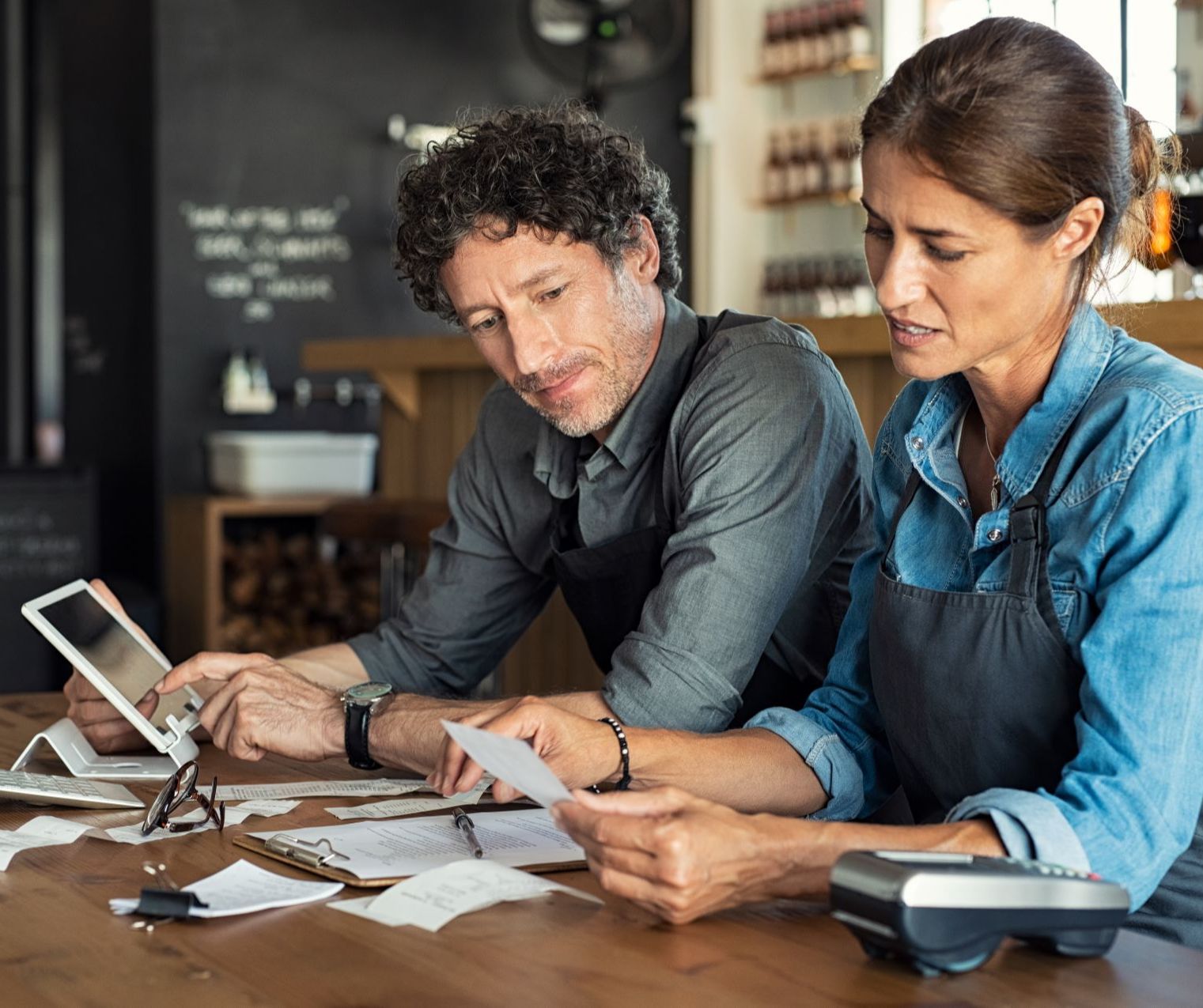 Do You Feel Your Restaurant Is Running You?
Do You Ever Feel...
Stressed About Money
Anxious About Business
You're Arguing More With Your Spouse About The Restaurant
You're Losing Valuable Time With Family & Friends
You're not alone. 80% of restaurant owners have these same feelings.
There is a better way.
Restaurant success isn't rocket science, it's people science.
Check out what members say...
Donald's strategies helped me get out of my own way and thrive!

-Vicky Cisneros, Owner, Los Vaqueros
Don't think twice. Donald and his coaching programs are the real deal.

-Patrick Mescall, Owner, Torrance Tavern & New Hall Refinery
Thanks to Donald, I got the confidence to get the restaurant I knew it could be.

- Zim Sutton, Owner, Caravelle
I'm a former USAF Pararescueman, restaurant owner, executive chef with Wolfgang Puck, and consultant that created a system that will allow you to...
The "GURUS" say that you need to work more ON your business and less IN your business. Yet no one has given you the step-by-step roadmap you must follow to actually make that happen. Until now...
This is the roadmap you need to make more profits and work less in your restaurant!
You deserve to have the restaurant you want without sacrificing your life for your business!
Ascend to Excellence with TRC Method
Are you tired of the relentless grind in your restaurant, seeing your dream being swallowed by the daily hustle? It's time to transform your restaurant into a thriving business that doesn't just consume your life but enriches it. Welcome to the TRC Method - the ultimate blueprint for independent restaurant owners who are ready to expand their empire, empower their teams, and exponentially increase their profits.
The Plight of the Passionate Restaurateur
You've poured your heart and soul into your restaurant. Yet, instead of reaping the rewards, you're clocking in endless hours, your health is on the line, relationships are strained, and financial freedom seems like a distant dream. The Valley of Mediocrity is a harsh reality for many, but it doesn't have to be yours.
The TRC Method: Your Pathway to Prosperity
Imagine a life where financial worries are a thing of the past, where your restaurant thrives even when you step away, where you have the freedom to enjoy life's precious moments with family and friends. The TRC Method isn't just a coaching program; it's your lifeline to the life you deserve.
The Journey to The Summit of Outstanding
The Slow Path: Begin with knowledge. My books and podcasts lay the foundation for your ascent. Immerse yourself in the TRC Vault and arm yourself with strategies that will start your transformation.
The Steady Path: Dive into the Restaurant Coach University, where you'll forge your skills, solidify your vision, and strengthen your team.
The Brisk Path: Join the Restaurant Masterminds, where collective wisdom propels you forward, and accountability keeps you on track.
The Swift Path: Engage with the Restaurant Accelerator, an intensive program that catapults your growth and sets you on the express route to success.
The Warrior Path: For those who demand nothing but the best and quickest results, Warrior Restaurants is the elite experience that guarantees the fastest climb to the top.
Embrace the Transformation
With TRC Method, it's not just about reaching the peak; it's about the metamorphosis you'll experience along the way. You'll break free from the shackles of day-to-day operations, your team will become a powerhouse of productivity, and your profits will quadruple, allowing you to scale new heights.
Confront Your Fears
Don't let the fear of missed soccer games, declining health, or a faltering marriage hold you back. The TRC Method is more than a business strategy; it's a lifeline to reclaiming your life. Every step you take on this path is a step away from those darkest fears and a step towards a future where you're not just successful but truly fulfilled.
Take The First Step
Are you ready to leave mediocrity behind and reach for outstanding? The journey of a thousand miles begins with a single step. Choose your path, embrace the TRC Method, and watch as your restaurant, and your life, transform before your eyes. Welcome to the life you've always dreamed of — it's waiting for you at the summit.
Book a call with me personally to see if restaurant coaching is right for you...no strings attached.
Let Me Help You Get You The Restaurant You WANT!
Hi, I'm Donald Burns, The Restaurant Coach™. I have spent 40 years in this industry as a restaurant owner, executive chef with Wolfgang Puck, and a consultant/coach to billion-dollar brands, celebrity chefs, and mom-n-pop restaurant owners around the globe.
But, I always remember that first restaurant I started...
OMG, I made SO many mistakes when I opened my first restaurant. I thought that running a restaurant and building a profitable brand was the same. I was SO wrong!
Then I found a business coach who helped me build my brand, strengthen my team, and showed me how to run a profitable business.
Those early lessons became the guiding principles that I still teach my clients today!
Allow me to spare you a lot of the pain, stress, and anxiety that I experienced when I was a restaurant owner.
Let me to show you the exact steps to make more while working less IN your restaurant...
MEET DONALD
ATTENTION: INDEPENDENT RESTAURANT OWNERS, MOTIVATED RESTAURANT LEADERS, AND DRIVEN RESTAURANTEURS
Get Guests To Spend 15% More WITHOUT Raising Prices!
Download The One Page Menu Design Cheat Sheet That The Most Successful Independent Restaurants Use To Drive Sales!
I'll also give you FREE training on how to use these tricks TODAY!
5

X

Amazon Best Sellers in Restaurant & Food Industry! 
All of my books are written to get you started down the path to getting your restaurant under control and getting your life back!
All are available on Amazon in either Kindle, Hard Cover, or Paperback editions.
They are also ALL available in audiobook format on Audible and iTunes. 
What coaching can do for you...
We love working with Donald. Our food costs have dropped by over 10%, labor costs are coming down and our training is so much better. We highly recommend working Donald Burns!

-Matt & Stephanie Dunken, Owners, Slam Dunk Pizza
Donald helped us reshape our culture through coaching. That has transformed our brand, our team, and our profits to new levels. We now spend more time working ON our business and enjoying being restaurant owners while living most of the year in Florida.

-Todd & Candy Sheets, Owners, Sno's Seafood & Steak
Before finding Donald Burns, I was losing my passion for my business and feeling lost. Donald has helped me to focus my energy and lead my business to success with his incredible program!
- Dina Stuehler, Owner, Ironworks Creperie
I don't fix restaurant problems...I fix the mindset that created the problem in the first place. Once you fix that the problems seem to fix themselves.
Donald Burns
The Podcast You Need To Build A Successful Restaurant
Experience the perfect blend of business strategy and straight talk with The Restaurant Coach™ Podcast. Renowned industry expert, Donald Burns, takes you behind the scenes of the restaurant world, delving into the heart and soul of your favorite eateries and experts. Get the inside scoop on what it really takes to start, maintain, and grow a successful restaurant business in this cutthroat industry.
Every episode is a deep dive into the minds of successful restaurateurs, master chefs, service experts, and hospitality industry leaders, sharing their insights, strategies, and tools. Get your notebooks ready for game-changing advice, invaluable how-to guides, and innovative solutions tailored specifically for the fast-paced restaurant business.
Whether you're a budding restaurateur, a seasoned pro, or simply a food-lover intrigued by the business behind the plate, The Restaurant Coach™ Podcast will serve up a hearty dish of knowledge, inspiration, and motivation. Get ready to transform your restaurant vision into reality, overcome challenges, and elevate your business to new heights.
Tune in to The Restaurant Coach™ Podcast, and get on the path to success today!
Don't wait! Take control of your RESTAURANT and life today.
---
Let's talk TODAY about how my integrated coaching programs, online courses, and workshops can help you get the restaurant you desire.
LET'S GROW YOUR RESTAURANT!